PRINT:

6 ft. Tall Double Sided Magical Dreams Screen
$119.00

Currently Out of Stock Expected to be back in stock: xx/xx/xxxx.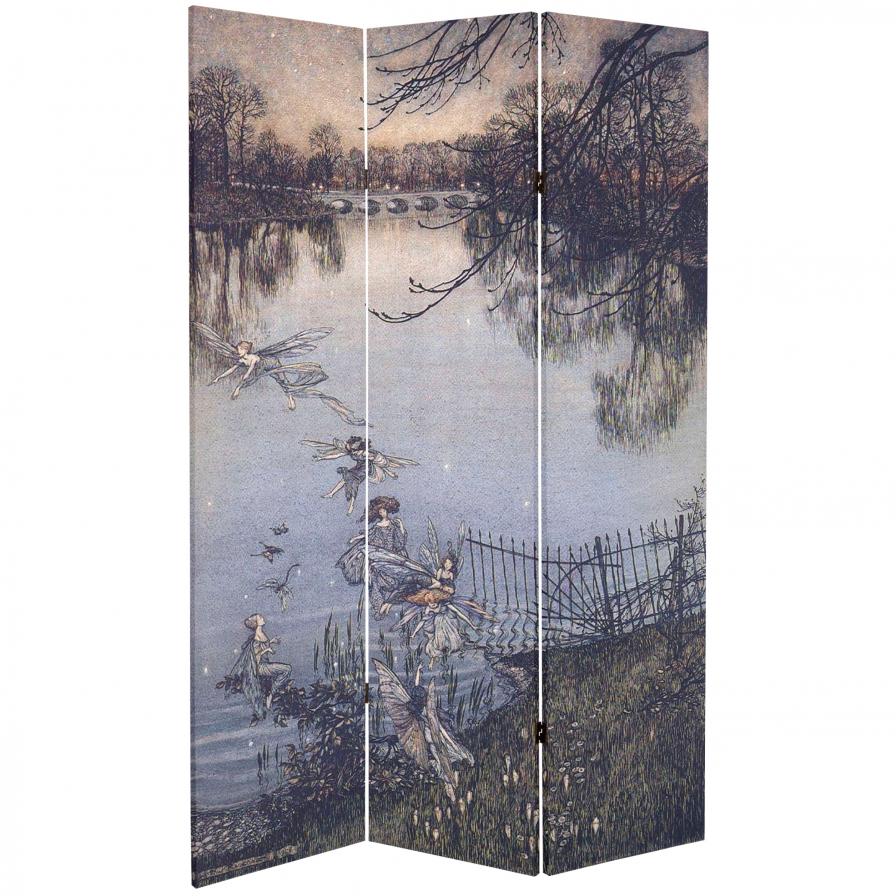 DESCRIPTION
On the front is a fantastical illustration of faeries cavorting in front of a small pond, rendered in the muted shades of a peaceful gloaming On the back is a remarkable illustration of a little girl in her bed, dreaming of images from a day at play These attractive and interesting vintage graphic art prints present striking interior design elements for any living room, bedroom, dining room, or kitchen This three panel screen has different images on each side, as shown
High quality wood and fabric covered room divider
Carefully constructed reinforced wood frames of hardy, kiln dried Spruce, covered top to bottom, front and back, and on the edges, with stretched poly-cotton blend canvas
Printed with high saturation ink to create a beautiful, long lasting image
Almost entirely opaque Very little light can pass through the layers of canvas, offering complete privacy
Very tough and durable, yet light and portable
Great for dividing space, redirecting foot traffic, providing privacy, hiding unsightly areas or equipment, setting a background for plants or sculptures, or defining a cozy space
SPECIFICATIONS
DIMENSIONS:

3 Panel Room Divider - 39.69"W x 70.875H"

FLAT DIMENSIONS:

47.25"W x 70.875H"

WEIGHT:

pounds

SKU:

CAN-BED
SHIPPING DETAILS
Shipped custom boxed and fully insured for complete reliability from our warehouse via FedEx Home Delivery.
QUALITY CONTROL:

Your order is inspected prior to shipping to eliminate any problems or defects.

PACKING:

Your order will be boxed for maximum safety and protection during shipping.

INSURANCE:

Each order is fully insured before shipping at no additional cost to you.
Reviews for: : 6 ft. Tall Double Sided Magical Dreams Screen