PRINT:

6 ft. Tall Double Sided Leopard Room Divider
$119.00

Currently Out of Stock Expected to be back in stock: xx/xx/xxxx.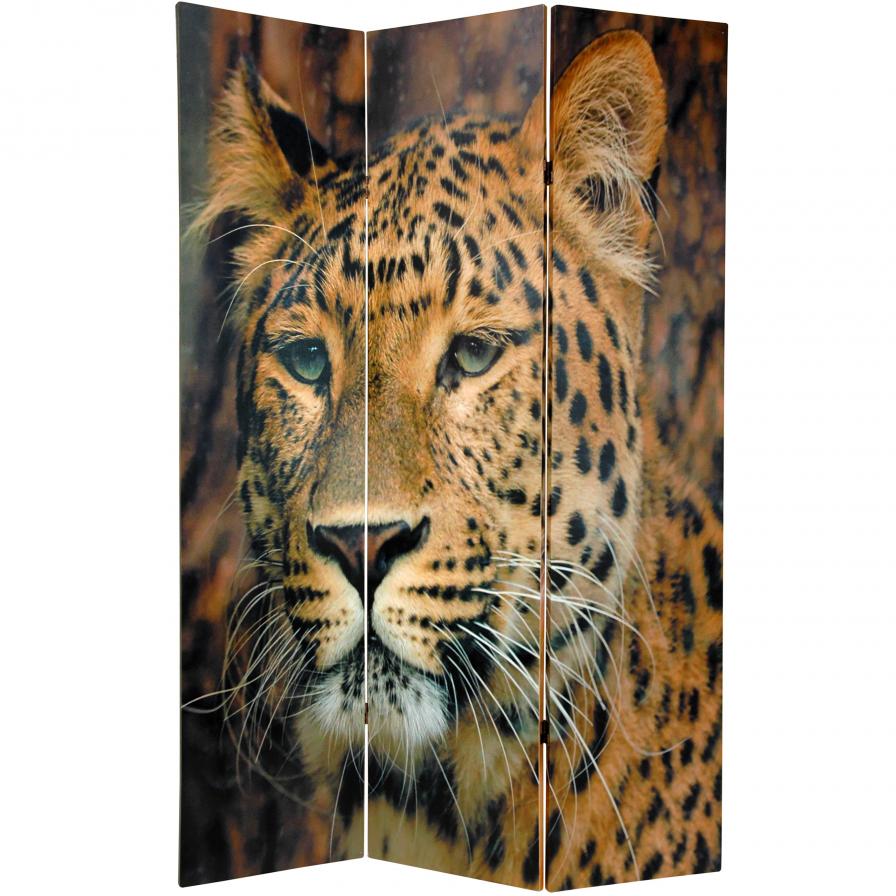 DESCRIPTION
Two outstanding, compelling close up photos of one of natures most compelling creations; an African spotted leopard. These are powerful, majestic creatures, with stunning coats to help them hide while they stalk their prey. Their amazing beauty helps us forgive their predatory natures, as they fulfill their roles in the cycle of life on the African savannah; they are just undeniably, incredibly beautiful.
Well crafted, sturdy kiln dried wood frame panels, covered with hardy, printable poly-cotton blend canvas
Exceptional, high quality close-up photography, with stunning color and texture, printed with high quality commercial printers
These panels wont allow light and shadows, creating a lightweight, portable, practical privacy screen room divider as well as a decorative screen
A fold up room divider in a family or children's room can hide a mess on short notice, as well as adding a delightful decorative accent
This wonderfully inexpensive collection of printed floor screens can also provide huge wall photos and wall art prints, easily mounted on any large empty wall
SPECIFICATIONS
DIMENSIONS:

3 Panel Room Divider - 39.69"W x 70.875H"

FLAT DIMENSIONS:

47.25"W x 70.875H"

WEIGHT:

pounds

SKU:

CAN-LEOPARD
SHIPPING DETAILS
Shipped custom boxed and fully insured for complete reliability from our warehouse via FedEx Home Delivery.
QUALITY CONTROL:

Your order is inspected prior to shipping to eliminate any problems or defects.

PACKING:

Your order will be boxed for maximum safety and protection during shipping.

INSURANCE:

Each order is fully insured before shipping at no additional cost to you.
Reviews for: : 6 ft. Tall Double Sided Leopard Room Divider